Putin explained that Russia supported Crimea in 2014 because of 'the arrival of the Nazis'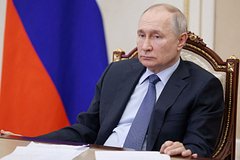 President of Russia Vladimir Poutine support explained Crimea in 2014 and its new entry into the RF "Nazis visiting" the area. His remarks broadcast on the television channel "Russia" are quoted by CASS.
"Russia in 2014 could not refuse to support Crimea," Putin explained.