German MP Merz says Chancellor Scholz is losing touch with reality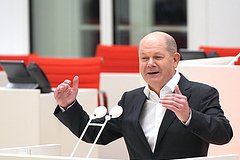 Leader of the German opposition Christian Democratic Union (CDU) party Frederic Merz said that the Chancellor Germany Olaf Scholz lose touch with reality. His words are transmitted through the portal T-line.
"Mr. Chancellor, you are losing touch with reality in our country," the MP said in response to Scholz's speech in Bundestag.